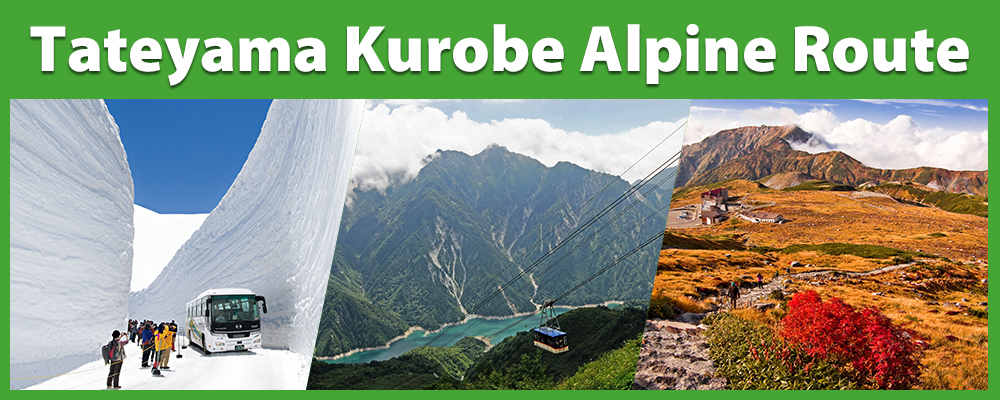 Tateyama Kurobe Alpine Route
Tateyama Kurobe Alpine Route, amazing views throughout the route! YOKOSO Japan Tour / Alpine Route tours 2020. Use 6 different types of transport. Unique experience.If you want to have fun in Japan, YOKOSO Japan Tour is your choice.
Modes of Transportation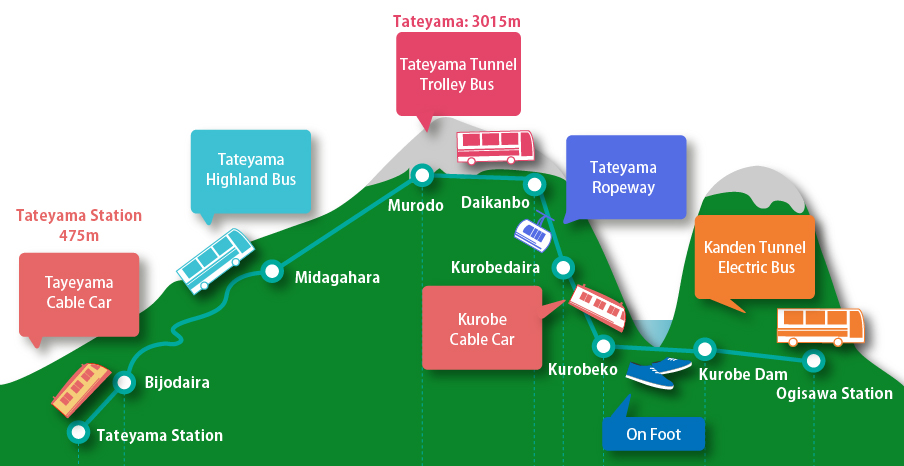 Snow Wall: Spring only!

The Snow Wall is just 5 minutes on foot from Murodo station at 2,450m above sea level. The walls are created while clearing the snow which falls heavily in the area and can result in walls exceeding 20m in height. Between April 15-mid June, you can walk through the wall and this is one of the highlights of visiting during the spring/early summer.

Alpine Plants: Summer only!

Summer on the Alpine Route is all about viewing the alpine plants at Murodo-daira, the highest point of the route. If you are lucky you may be able to see ptarmigan chicks with their parents. The flowers and lush greenery stretch as far as the eye can see and enables you to temporarily forget about the summer heat at ground level.

Autumn colored mountains: Fall only!

As the seasons change faster at this altitude, if the timing is right, you can enjoy snowy mountain scenery at the top, green trees at the bottom and autumnal colors in between. The autumn leaves at Tambo-daira, which can be seen from the Tateyama Ropeway, is a particular highlight!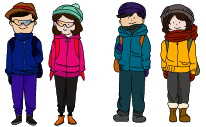 What kind of clothes should I wear when I visit the Tateyama Kurobe Alpine Route?
The weather in mountainous areas can vary greatly. When you visit the Tateyama Kurobe Alpine Route, it is best that you bring extra clothes in order to keep warm. It is also recommended that you wear sturdy, non-slip shoes.
April to June:Wear non-slip shoes, as Murodo is usually covered with snow during this period. Gloves, a thick scarf, and a pair of sunglasses are also recommended.
July to August:A windbreaker and a pair of sunglasses are recommended, as there are strong winds and bright sunshine during this period.
September to October:Bring a windbreaker, as the temperature falls to around 10℃. Since snow sometimes falls in October, it is best that you wear a wool or fleece jacket.
November:Dress in cold-weather gear, as it sometimes gets below freezing. Gloves, a thick wool scarf and hat, and a pair of sunglasses are all recommended.
---

What are the average monthly high and low temperatures in the area?
Table of average monthly high and low temperatures in Murodo
| | | | | | | | | |
| --- | --- | --- | --- | --- | --- | --- | --- | --- |
| | Apr | May | June | July | Aug | Sept | Oct | Nov |
| HIGH | 10℃ | 10℃ | 13℃ | 15℃ | 16℃ | 12℃ | 8℃ | 5℃ |
| LOW | -5℃ | 4℃ | 7℃ | 11℃ | 14℃ | 10℃ | 2℃ | 0℃ |
---

What should I do with my belongings when I visit?
We recommend that you only valuables and essentials with you as you go along the Alpine Route. This lets you move about easily when travelling across the mountains on the various types of transport. You can leave large-sized luggage such as suitcases in the trunk of the motor coach.
The Tateyama Kurobe Alpine Route is famous for its spectacular panoramic views of the 3,000-meter tall mountains which make up the Japanese Alps. Its abundant, natural beauty changes with every season, inviting people to visit over and over again. Planning a trip on your own can be difficult and time-consuming. However, if you join one of our tours, you can relax and enjoy your trip to the fullest!